Berkshire Ridefilm
John Gerner (LBA's managing director) previously served as President of Berkshire Ridefilm, a wholly owned subsidiary of Berkshire Motion Pictures. During this time, that company produced the highly-acclaimed simulation film for Universal Studios' "Back to the Future: The Ride", which was directed by Douglas Trumbull.
Below is a promotional video for the entire ride experience.
"Back to the Future: The Ride" is currently at Universal Studios Japan. Click here for its description page on the theme park's website.
Below is Berkshire Ridefilm's company brochure when the film was produced. Click on a specific picture for a larger version of the page.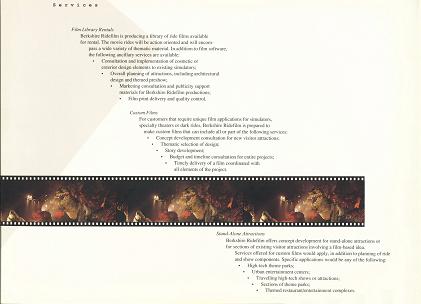 Copyright 1991 Berkshire Ridefilm and Universal Studios.