Berkshire Ridefilm
John Gerner (LBA's managing director) previously served as President of Berkshire Ridefilm, a wholly owned subsidiary of Berkshire Motion Pictures. During this time, that company produced the highly-acclaimed simulation film for Universal Studios' "Back to the Future: The Ride", which was directed by Douglas Trumbull.
Below is a promotional video for the entire ride experience.
Below is Berkshire Ridefilm's company brochure when the film was produced. Click on a specific picture for a larger version of the page.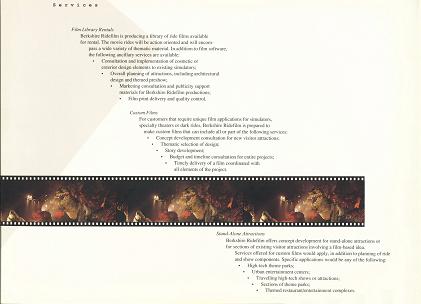 Copyright 1991 Berkshire Ridefilm and Universal Studios.